The Seven Cereals bread is our exclusive production.
For all our recipes we use:
– Beef meat of Pezzata Rossa Italiana from a farm in Val Varaita – Mountains of Piemonte; certified and guaranteed, raised outdoors, fed without GMOs, matured for 15 days (depending on availability, otherwise meat from cattle born, raised and slaughtered in Piedmont).
– Pork cured meats from pigs reared in Piedmont by Salumificio Ager from Torino.
– Mountain cheeses from the Bessè dairy in Val Varaita from cow's milk from Italian Red Pezzata
– Buffalo cheeses from the Facchi dairy in the Ticino Park
– Eggs from hens raised on the ground by the Fantolino company
– Extra virgin olive oil from Trapani – Az. Agricola Sortino.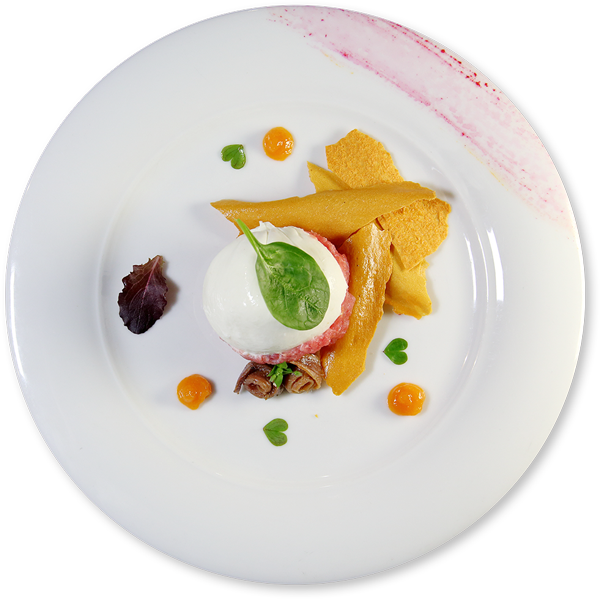 Appetizers/Starters
Veal Tuna with Ancient Sauce 12
Beef Terrine with Marsala reduction et Bagnet verd 11
Sauce made with garlic, olive oil, vinegar breadcrumbs and sage 
Small Piedmontese mixed fry on glazed celery sauce 10
brain, grain, veins, sweetbreads ❊
Croquettes ❊ of potatoes, broad beans and mint with lime mayonnaise and Sichuan pepper ꕤ 11
Caramelized onion tarte tatin on Cow blue cheese fondue ꕤ 10
Diaphragm of Pezzata Rossa Piemontese ❊ 11
Marinated with herbs, grilled served with American potato chips
Zucchini flowers in batter stuffed with Seirass and mountain cheese ꕤ 11
with delicate basil and mint pesto

Knife chopped veal of Pezzata Rossa with with Squaquero cream, cauliflower popcorn and mustard in grains 13
Meat reared and slaughtered and Bufala from Piemonte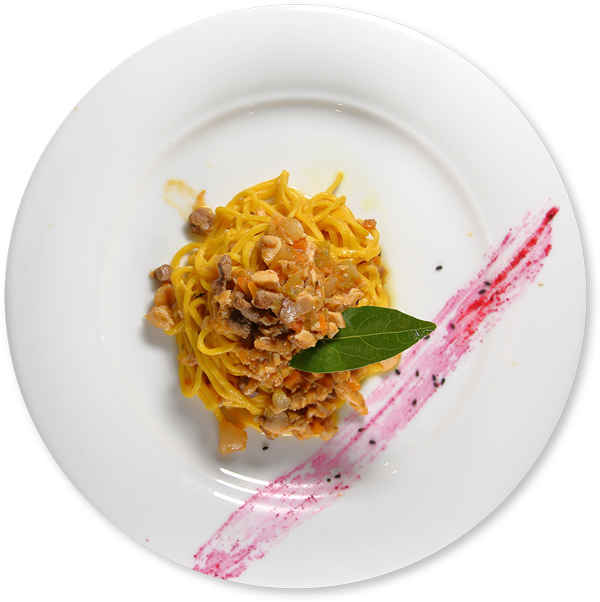 Homemade Pasta ❊
Agnolotti with roast gravy, goat cheese and hazelnuts 14
(ravioli filled in with braised pork and veal meat)
Tajarin with Zucchini Cream with Tempura Trout and Spicy Lumpfish Eggs ꕤ 13
Little tagliatelle
Plin with local pork sausage ꕤ 13
Little ravioli filled in with cheese and hazelnuts

Smoked marrow ❊ risotto with rosemary, courgettes and seasoned squaquero 11
Soft cheese from Val Varaita – extra organic Carnaroli rice from Piemonte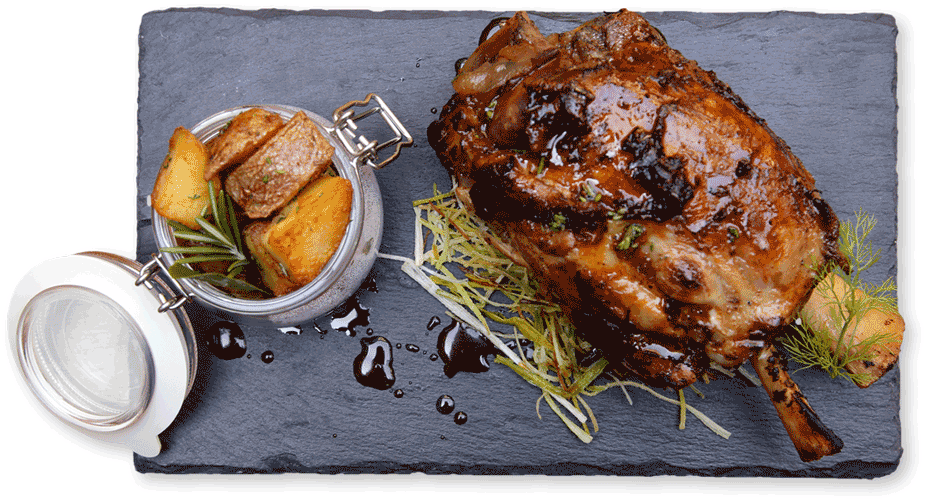 Main courses
Raclette, potatoes and Craft Sausage or with Ratatouille ꕤ 13
Raw milk cow's milk cheese served melted in a terracotta earthenware dish baked in the oven
Raclette, potatoes and Asparagus ꕤ 14
Raw milk cow's milk cheese served melted in a terracotta earthenware dish baked in the oven

Piedmontese braised Pezzata Rossa Veal 16
with Barbera D.o.c. Vinchio Vaglio, served with potato pie and glazed shallot
Shoulder of Pork baked with Weiss Beer and Citrus 16
Our famous dish: cooked at low temperature for 4 hours and served with rustic baked potatoes – Franziskaner beer. 
Beef Steak of Pezzata Rossa Piemontese in a hazelnut crust 18
with potato chips and yellow and purple carrots with Sampeyre mountain butter (about 160 gr.)
---
Vegetables Ratatouille ꕤ 4,5 
Baked Potatoes ꕤ  4
Addition of cheese fondue (ab. 50gr)  1,00
Addition of Bagna Caöda (ab. 50gr)  1,50
---
ꕤ Vegetarian dishes available
 even in a vegetarian version
❊= Frozen foods
For intolerances / allergies, please contact
 immediately the staff room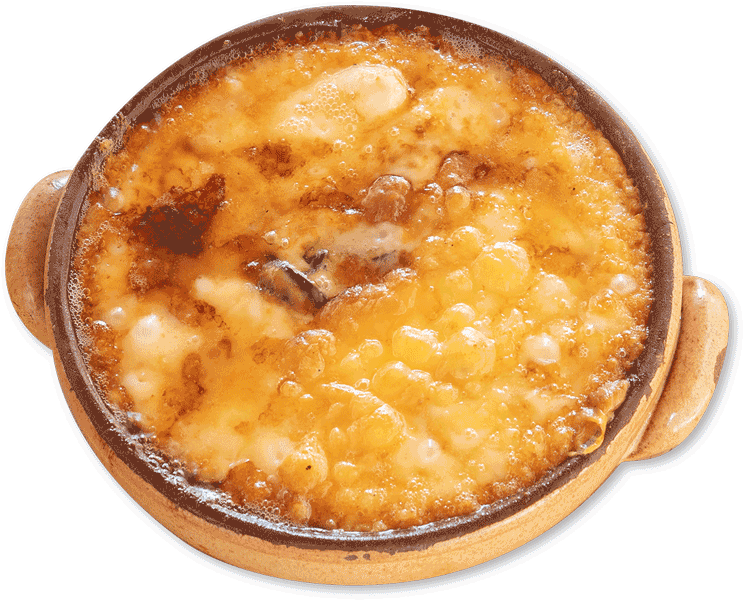 House Specials
Available upon reservation:
48h before minimum 2 portions
Fujot Fol!ꕤ 16
Our exclusive invention!
Mountain Cheese Cream of Cow milk to be dipped with sausage and baked potatoes, in the Fujòt, a terracotta container with a fireplace and a candle to keep the cream warm.
Bagna Caöda 24
Traditional sauce made with anchovies, garlic and extra virgin olive oil, accompanied by fresh vegetables (thistles, Jerusalem artichokes, Belgian salad, white cabbage, radicchio, radish, spring onions, celery, carrots, fennel), and baked (onion, beetroot, caulibower, potatoes, Jerusalem artichoke and peppers). Vegetables available depending on the season. 
The real Piedmontese mixed fry 26
Sausage, Frog Legs, Liver, Brain, Sweetbreads, Filoni, Granelle, Slice of Veal, Semolina, Aubergine, Cauliflower, Carrot, Zucchini, Amaretto, Apple served at the table on three courses.
---
ꕤ Vegetarian dishes available
 even in a vegetarian version
❊= Frozen foods 
For intolerances / allergies, please contact
 immediately the staff room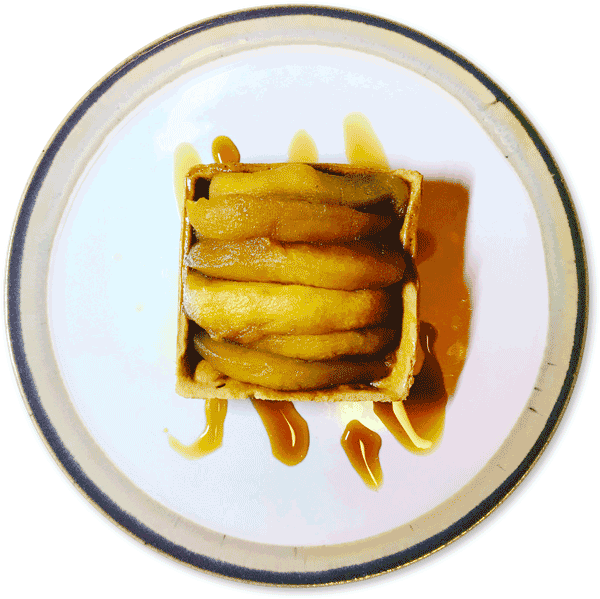 Dessert
Of our production
Cavour tart with hazelnuts and chocolate glaze 6
Coppa Sabauda with Seirass 6
Ricotta cheese cream with macaroon, chocolate flakes, meringue, almonds and sour cherries

Torta Mazzini 1835  6
Original recipe with puff pastry, almonds and lemon cream and meringue with Artisan Ice cream from Torino
Caramel and hop parfait with crunchy almonds 6

Cannoli stuffed with Seirass with cocoa, peach and amaretto 5
Apple Tarte Tatin with ice cream 6
with Artisan Ice cream from Torino
Artisan Sorbet with Lemon 5
Artisan Sorbet with Occitan Vodka 6
Homemade Ice Cream with Coffee drowned 6
Homemade Ice Cream with Whiskey Single Malt Scotch Cragganamore 6
Bombardino! 5
Cup of Zabajone with rum with whipped cream, cocoa and corn cookies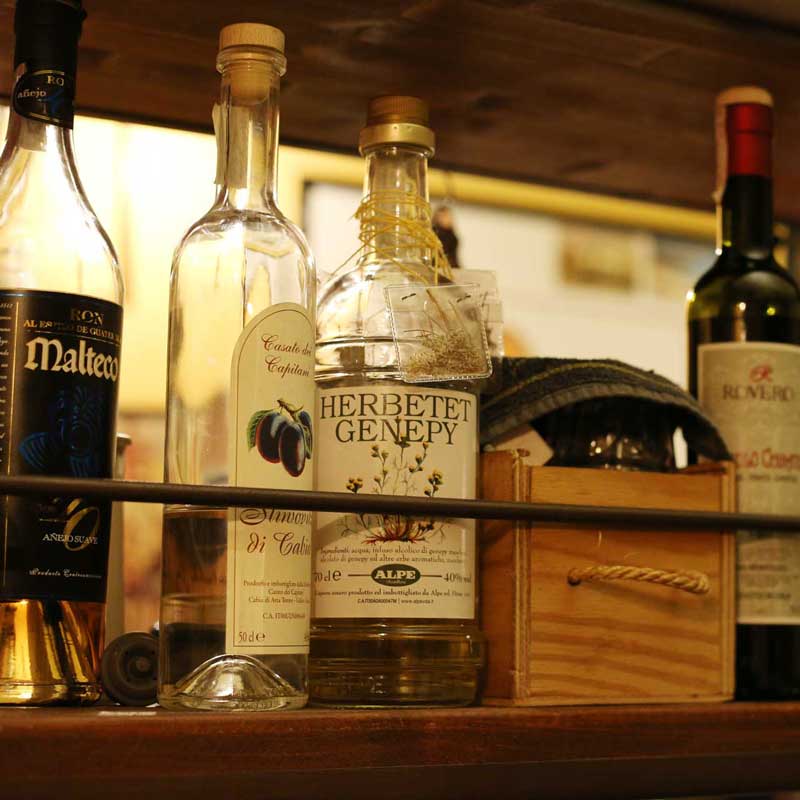 Dessert wines
Moscato dolce sparkling D.o.c bottle 15
Passito di Favorita "O Drè" Bel Colle glass 3,5 | bottle 21
Tarasco Passito di Arneis Cornarea 2016 glass 6 | bottle 28
Nebbiolo Chinato Cocchi glass 4
Barolo Chinato Bel Colle glass 6
Coffee and Bar
Filtered water 50 cl 50cl 0,60
with regularly checked and cleaned system
Caffè espresso, dek, orzo 1,60
(addition euro 0,50 more)
The, Tisane, Cappuccino 3,00
Cover charge, our bread and service 2,50